the astonishing review
I've been enjoying Dream Theater's last release entitled The Astonishing since its release, this late January.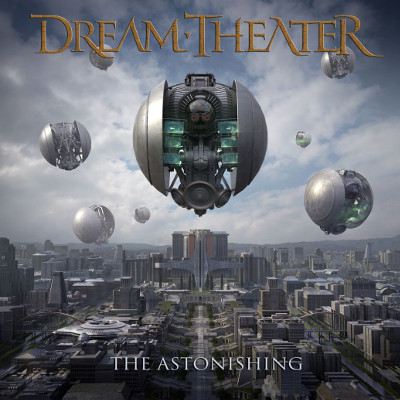 After listening to it at least 20 times, I can say for sure that this is one of my all-time favorite Dream Theater albums. The combination of a cohesive story, with kick-ass orchestration and chorus, really resonates with me. Being brutally honest, I'm pretty sure a lot of hardcore DT fans are going to hate this album, labeling it as "two hours of rock ballads". For me, everything is lost when I close my eyes and see the story happening inside my head, and credit where it's due, this is LaBrie's show. The different voices and emotions conveyed is one of the high points in my opinion. For a second close, we have Ruddess and Petrucci preparing the atmosphere for LaBrie to shine. Where is Myung and Mangini? Well, support roles this time. They do the job, but I kinda miss them overall. This album is technically perfect - when you have a team of virtuozzo players, knowing they are trying to do less is a laudable effort. Now, on to the individual track highlights.
Dystopian Overture
Something I would never expect for a metal album - putting all the melodies together, like they do at the operas.
The Answer
Wow, this one gave me goosebumps. Hard not to relate with times when we face opportunities at life and are kinda scared of trying, moving forward.
Lord Nafaryus
I really like how this music wildly changes the mood. Highlight for this part:
His decision is made So his journey begins Up to the edge of the realm To meet the savior In the coming days They'll announce His Grace And he'll ask to be amazed
When Your Time Has Come
Lyrics speak for themselves, great solo, rich-not-shredded-melody.
When you're facing the path that divides Know that I will be there by your side Find your strength in the sound of my voice And you'll know which choice is right
Three Days
Voice dynamics really tell about Nafarius being a spoiled brat jealous of Gabriel's being in the spotlight. Catchy chorus - one of my favorites. Remembers me of Build Me Up, Break Me Down.
Brother, Can You Hear Me?
Anthem. Goosebumps.
A Life Left Behind
This one remembers me of excerpts of Images and Words; Bonus points for Mangini here.
Chosen
I'm a sucker for good lyrics, and the music is more than appropriate to pass the message forward.
And there's a reason, now I see The reason I've been chosen She sees the light inside of me A reason to believe
A Tempting Offer
One of the most theatrical performances here.
A New Beginning
This is the album's pinnacle, almost like a good old DT song, with a beautiful bass+drums+laid back guitar at the end. This song screams "maturity" as a band. Complex, layered song, without being technically excessive.
2285 Entr'acte
Just a beautiful tune. Move along
Moment Of Betrayal
Nice song overall, we can haz bass :)
Begin Again
I really like the well-blended orchestration towards the end.
My Last Farewell
Dark melody, dripping the pain the protagonist feels.
Losing Faythe
One of my favorite melodies from this album, specially when the orchestra joins.
There's a reason now I see The reason you have chosen To find the light inside of me If only I believed
Astonishing
I love the progressions found here
I don't pretend to have the answer Never said I have the key But somehow they see, a light inside of me Am I not the man who I was meant to be
Then becomes:
I've always had the answer All this time I held the key And now that I see The reason to believe I can be the man who I am meant to be
Wrap-Up
At the end of the day, originality, musicality, cohesion, emotion is what makes The Astonishing, well, Astonishing. Even if this doesn't sound like your average Dream Theater album, it screams aloud that we still have much more to see from these crazy musicians. I am eager to see them telling this story live, hope they come down to Brazil during this tour. I definitely rate this 9.5 / 10.